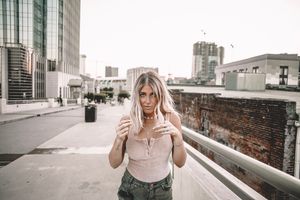 About Daniella
Nashville indie artist Daniella spent years honing her craft as a singer-songwriter in SoCal before making the move to Music City, which she now calls home. She splits her time between writing with other artists and songwriters and working on her own music. Daniella's first release of 2020 was the vibey love song, White Tee.  Her next single, Country Club, was released at the stroke of midnight on New Year's Eve. Both songs incorporate a unique blend of the Country/Pop/EDM genres – a sound Daniella calls "Dirt Road Meets DJ." In an article for Raised On It blog, Aaron Wagner says, "Daniella is a new Nashville artist who is about to thrive in the sweet spot between country, pop, and EDM, creating a fresh new sound that many will like."
Daniella grew up in a small town east of San Diego with the notion that country music was boring "cause Grandpa listens to it."  But that changed when, at the age of 13, she reluctantly attended her first country music concert.  That night she watched a new American Idol winner named Carrie Underwood sing Jesus Take the Wheel.  Drawn in and mesmerized by Underwood's performance and the crowd's 10-minute standing ovation, Daniella knew at that moment she wanted to do exactly what Underwood was doing – impacting the world through God and country music.   
In the years leading up to her move to Nashville, Daniella released two EPs of original songs; traveled from coast to coast to 40+ country stations to promote her radio singles; and played at dozens of venues and festivals as the lead singer of her pop country band. Her favorite shows to date were opening for Carter Winter at the legendary Viper Room in Hollywood and playing one of the largest country music festivals in the US – Country Thunder – on the same bill as her music idols, Florida Georgia Line.
As Daniella continues to write and record in Nashville (and eventually get back to live shows after the pandemic), her goal is to inspire others and make them feel "invited." That's the message behind her latest song – Country Club – a place where everyone is on the guest list!
More History ...
Just after graduating from high school in 2010 – with her motto "rock stars don't go to college" -– Daniella (formerly Dannie Marie) spent two years as the lead singer in The Dannie Marie Band, playing "pop country that rocks!" at various venues around her hometown of San Diego (along with frequent trips to Nashville). The band released a 3-song EP in 2010; got placement in a feature film for one of their original songs; and received recognition for their Flavor of the Week music video at film festivals, including a Golden Reel Award for Best Music Video at the Nevada Film Festival.
Fast forward a few years later, she took nine of her original songs to Music City to record an album at the 515 Studio with producer Chip Hardy.  The first single and title track of her new CD, Anything I Wanna Be, was released to country radio in May 2015.  Watch the Official Lyric Video. Hear the story behind the song  in this video. Traveling with her 16-year-old brother on guitar and her mom behind the wheel of their minivan, Dannie Marie logged more than 6,000 miles visiting radio stations to promote Anything I Wanna Be.  She did conference room shows and interviews at 30 country radio stations in Arizona, California, North Carolina, Tennessee, Georgia, Washington, and Idaho.  KFLG Program Director Craig Powers said, "Dannie Marie is the real deal -- she writes and performs like a 20-year pro. She's the whole package!" See highlights from the CA radio tour here.  See highlights from the southeast states radio tour here. To promote her next single, Countin' Down Summertime, Dannie visited another dozen country stations in five states on her 2016 spring break Flyover States Radio Tour.  See what music programmers have to say about the new summer anthem.  The Official Music Video for Countin' Down Summertime was released in the summer of 2016 and had its film festival World Premiere at San Diego Film Week in February 2017.

As she works to make her mark as a country artist, Daniella enjoys using her platform to encourage young girls to follow their dreams, believe in themselves and make positive life choices. One of her favorite scriptures is Psalm 37: 4. "Delight yourself in the Lord and He will give you the desires of your heart."
Sign up for the mailing list to be the first to know about new music and video releases.  Connect with Daniella on Instagram where you can join her everyday life!
Once Upon A Time . . . . . .
In a small town east of San Diego, there lived an 8-year-old girl named Danielle Pupa who pleaded with her mom to take her to McDonalds to get the new CD from Britney Spears and N-Sync (available with the purchase of a Happy Meal). From the moment she heard it, she dreamed of being a rock star.
Danielle took musical theater classes and got small "chorus" roles in Christian Youth Theater productions. She took dance classes and voice lessons. In middle school, she played character roles as Smitty in How To Succeed in Business Without Really Trying and Frenchy in Grease. When she was 13 and Clay Aiken came to San Diego on his Joyful Noise Tour, Danielle (and her little brother Nick) got booked as background performers.
Danielle began writing songs when her dad gave her a guitar for her 16th birthday. During her junior year in high school, she and her mom drove 300+ miles roundtrip  every Sunday so she could take acting classes with one of the best youth acting coaches in Hollywood.  Danielle performed with her high school's Show Choir for 4 years, and  received the "Triple Threat" award. 
 
The moment of truth came at Danielle's final show choir performance when their teacher had all the seniors line up on stage to announce which college they would be attending in the fall. When it came her turn, Danielle boldly stated, "Rock stars don't go to college!"  Ever since then, she's been following her heart to establish herself in the entertainment industry – as a singer, songwriter, and actress. And although college was not in her plans, Danielle spent countless hours over the next four years at songwriting and performance workshops, music industry seminars, and mentoring with industry professionals in San Diego, Los Angeles, and Nashville to hone her craft.
 
Several months before graduating from high school (on the dean's list!), Danielle sought out musicians to back her up for a gig she'd booked at the San Diego County Fair that summer. With the realization that her given name, "Pupa," could be a problem (for obvious reasons), she adopted the stage name, "Dannie Marie." After several rehearsals, The Dannie Marie Band was born.